Biodiversity offsets program
Biodiversity offsets program
The Biodiversity Conservation Act 2016 introduces a new Biodiversity Offsets Scheme that will deliver a transparent, consistent and scientifically-based approach to biodiversity offsetting in NSW, providing users with upfront clarity about the program.
The scheme provides tools to assist developers and landholders to avoid, minimise and offset the impacts of development and other activities on biodiversity.
The overall policy, strategy and systems for the Biodiversity Offsets Scheme are set by the Office of Environment and Heritage. The NSW Biodiversity Conservation Trust has two functions under the Scheme:
securing offsets on behalf of proponents who pay into the Biodiversity Conservation Fund, in accordance with legislated offset rules
administering biodiversity stewardship agreements that generate biodiversity credits (including existing biobanking agreements created under former legislation).
The Biodiversity Offsets Scheme applies to the following types of Development Applications:
local development (assessed under Part 4 of the Environmental Planning and Assessment Act 1979) that is likely to significantly affect threatened species or triggers the Biodiversity Offsets Scheme threshold
state significant development and state significant infrastructure projects, unless the Secretary of the Department of Planning and Environment and the Chief Executive of OEH determine that the project is not likely to have a significant impact
biodiversity certification proposals
clearing of native vegetation in urban areas and areas zoned for environmental conservation that exceeds the Biodiversity Offsets Scheme threshold and does not require development consent
clearing of native vegetation that requires approval by the Native Vegetation Panel under the Local Land Services Act 2016
activities assessed and determined under Part 5 of the Environmental Planning and Assessment Act 1979 (generally, proposals by government entities), if proponents choose to 'opt-in' to the scheme.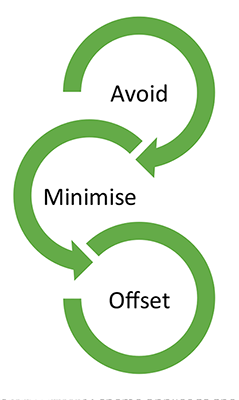 More information about the Biodiversity Offsets Scheme can be found at www.environment.nsw.gov.au.
Under the Biodiversity Offsets Scheme, the NSW Biodiversity Conservation Trust is the statutory body    responsible for securing offsets on behalf of development proponents when they choose to pay into the  Biodiversity Conservation Fund.