Image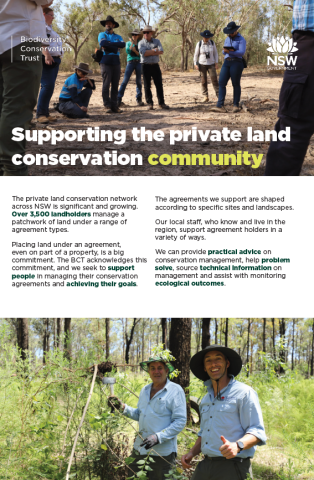 Landholder support program factsheet
Download the information on this page through this factsheet.
Supporting the private land conservation community
The private land conservation network across NSW is significant and growing. Thousands of landholders now manage a patchwork of land under a range of agreement types.
Placing land under an agreement, even on part of a property, is a big commitment. The BCT acknowledges this commitment, and we seek to support people in managing their conservation agreements and achieving their goals.
The agreements we support are shaped according to specific sites and landscapes. Our local staff, who know and live in the region, support agreement holders in a variety of ways.
We can provide practical advice on conservation management, help problem solve, source technical information on management and assist with monitoring ecological outcomes. 
What does a BCT agreement holder have access to?