Under the Biodiversity Conservation Act 2016, one of the BCT's four tasks is to promote 'public knowledge, appreciation and understanding of biodiversity and the importance of conserving biodiversity.'
BCT Education Program Objectives
The BCT is focusing its education efforts on private land conservation. We are taking an approach of designing and delivering educational projects in partnership with expert organisations, including Landcare NSW, the Australian Museum and Petaurus Education Group.
The BCT's education projects to date have mentored and engaged more than 11,000 students and provided professional development to 379 teachers across the state. See all Biodiversity Conservation Education Program outcomes below.
Biodiversity Conservation Education Program Outcomes
Schools
Conservation Champions
Image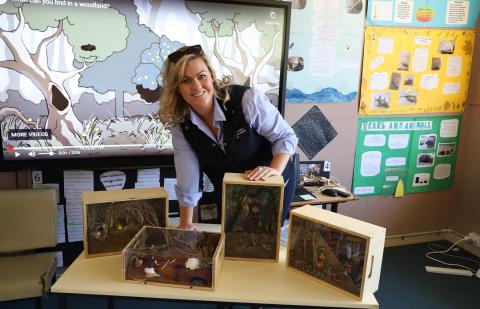 Conservation Champions is a free education project run by the Biodiversity Conservation Trust with the help of Petaurus Education Group.
The project includes curriculum-linked class lessons, excursions, resources and professional development opportunities for NSW schools, providing regional students with the opportunity to learn about the importance of biodiversity conservation across a range of different landscapes. 
Elements of the project aim to connect motivated students to a champion landholder who is promoting biodiversity conservation, as well as scientific experts in biodiversity and sustainable agricultural practices.
A series of 'Biodiversity on my land' boxes developed with the Australian Museum are used throughout the Conservation Champions program, and contain additional engaging activities and resources including games, puppets, bush treasure hunts and picture books. 
An online interactive unit targeted at year 11 agriculture students is also used as part of classroom activities, adding flexibility to the project. This interactive unit includes a cause and effect module, highlighting the ecosystem services conservation areas can provide to an agricultural landscape. 
Conservation Champions is aligned with NSW Education Standards Authority (NESA) curriculum requirements and involves a range of free primary and secondary resources (available for download below). The resources and lessons are linked with the curriculum for stages 1-6 and excursions linked for stages 5-6. 
The entire project is free for schools, including assistance with travel arrangements. All presenters have their WWCC & First Aid. 
If you have any questions or are interested in getting involved in Conservation Champions, please get in touch by filling out this short online form. 
Free secondary school resources
A biodiversity conservation edition of Monopoly! See game and pieces plus card decks below. 
Image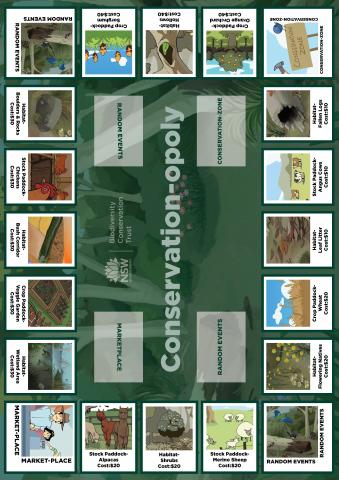 Learning Activity
2.09 MB
Conservationopoly board, dice and pieces
An in-depth game with a focus on biodiversity conservation in an agricultural setting
Image
Learning Activity
2.27 MB
Conservationopoly card decks
Card decks to print and cut out as part of Conservationopoly game
Partnerships
Landcare NSW
The BCT and Landcare NSW are working with regional Landcare networks to raise awareness and support private land conservation efforts across the state.
A co-managed and community-guided program, Partnering in Private Land Conservation Program aims to work collaboratively to build understanding and skills regarding biodiversity, educate private landholders on conservation efforts, and increase participation in private land conservation.
The 2-and-a-half-year program will build on, and further, the successful work already undertaken by the NSW Landcare community and the strength of partnerships and understanding of the importance of biodiversity at a grass roots level.
Key objectives of the project include:
Building understanding and capacity between the BCT and local Landcare groups to complement each other's knowledge and skills and plan how to work together.
Building biodiversity conservation knowledge with landholders through communication and education initiatives. This will be delivered through grant funding to eligible groups who wish to participate.
Increase the participation of landholders in private land conservation programs.
Regional Landcare Networks Projects
Across the state, Regional Landcare Networks have been funded to develop networking, education and communication activities with private landholders. These projects will build understanding of private land conservation and increase opportunities for regional Landcare and BCT staff and volunteers to meet and share their knowledge and skills.
Private landholders will be provided with opportunities to network, participate in education and training activities and share their stories of conservation on their own land.
Visit the Landcare NSW website to read about upcoming regional projects.
We encourage you to contact Landcare NSW or your regional Landcare Network for more information on how to participate.
Australian Museum - FrogID
The BCT has partnered with the Australian Museum (AM) on their world-leading citizen science project, FrogID.
Developed by the AM, FrogID is a free mobile app for iOS and Android devices that enables anyone to help monitor frogs by recording their calls. Frogs are highly sensitive to changes on land and in water and declines in frog populations are shown to have large-scale, long-term ecosystem-level impacts.
The BCT is encouraging landholders to get involved in this important initiative to help track changes in frog populations, fill knowledge gaps, gauge the effects of environmental change and inform landholders about the state of the environment.
See the resources below for more information and how to get involved.  
Image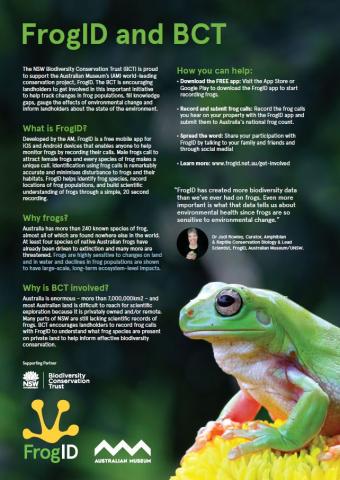 FrogID and BCT
Learn about why frogs are important for biodiversity and how to download the FrogID app to monitor for frogs on your land
Image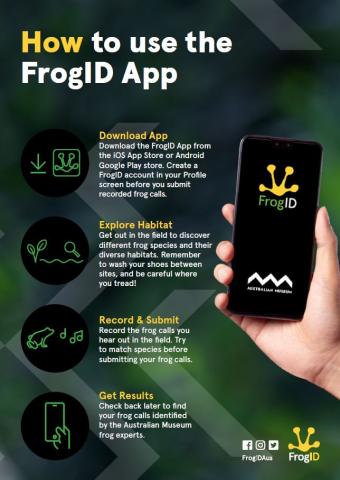 How to use the FrogID App
A simple guide to downloading and using the FrogID app