The Biodiversity Conservation Trust acknowledges that it operates on Aboriginal land. We acknowledge the Traditional Custodians of the land and we show our respect for elders past, present and emerging through thoughtful and collaborative approaches to our work, seeking to demonstrate our ongoing commitment to providing places in which Aboriginal people are included socially, culturally and economically.
The Biodiversity Conservation Trust (BCT) is a statutory not-for-profit body established under Part 10 of the Biodiversity Conservation Act 2016, which commenced operating on 25 August 2017.
The BCT is within the portfolio of the NSW Minister for Energy and Environment.
Board and Executive
The Biodiversity Conservation Act 2016 provides for the Minister to appoint the BCT Board, and for BCT Board to manage the affairs of the BCT. 
The BCT is subject to the control and direction of the Minister, except in relation to payments from the Biodiversity Conservation Trust Public Fund. The Trust must publish any directions made by the Minister.
The BCT is led by a Chief Executive Officer who is supported by a Director Regional Delivery, Director Programs, Director Strategy and Finance, and other senior staff.
 
BCT leadership and structure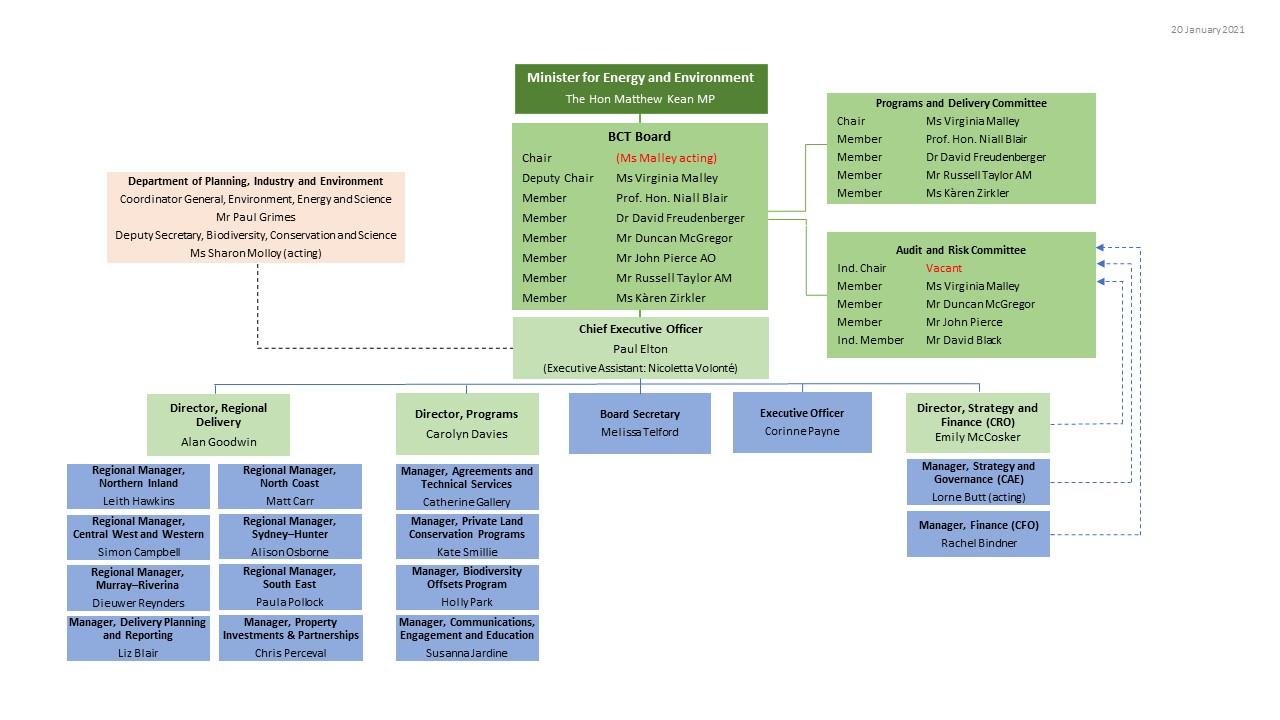 BCT Audit and Risk Committee
The Audit and Risk Committee provides independent assistance and assurance to the BCT Board by monitoring, reviewing and providing advice on governance, financial management, risk management, conformance, internal and external audit, and external accountability. Staff from the Audit Office of NSW and the BCT's internal auditors regularly attend meetings. The Audit and Risk Committee currently consists of three BCT Board members and the Chairperson is Mr David Black, an independent, non-Board member.
David Black
Before retiring as a Partner from Deloitte in 2016, David spent 25 years working in the UK and Australia. During that time David worked with clients, including in the Government sector, on complex accounting, internal and external auditing, risk management, corporate governance and due diligence engagements.
David is a Fellow of Chartered Accountants Australia and New Zealand, a Fellow of the Institute of Chartered Accountants in England and Wales, has a BA(Hons) in Economics, a Masters of Business Administration, and is a Graduate of the Australian Institute of Company Directors.
David currently sits on one other Government sector audit committee serving as the independent member and is a non-executive director and audit committee member on an ASX listed company.