18 May 2019
The Kooyong Farm is a family farm run by Robert Cox and his family. The farm is a Wildlife Refuge and is located near Tumbarumba NSW and lies within the Summit to Slopes area of the Great Eastern Ranges, a narrow band from Kosciuszko National Park to Albury.
With the aim to leave their property in a better condition that it was inherited, Rob and his family commenced the hard work of removing weeds along Mannus Creek which flows for several kilometres through the Property. The creek line had degraded over time and was heavily infested with weeds such as Willows and Blackberries.
Through a government funding scheme, Robert received assistance for his long-term rehabilitation project to help remove weeds along Mannus Creek. The removal of the weeds was in return helping restore breeding habitat for the Booroolong Frog Litoria booroolongensis.
The Booroolong frog is a critically endangered frog. The species which was once prevalent in most streams flowing west of the Great Dividing Range, now only exists in a handful of locations, with the majority in agricultural landscapes. With the assistance of landholders like Rob and his family and their farm management, their Kooyong Wildlife Refuge will potentially restore and maintain the survival of the Booroolong frog along Mannus Creek.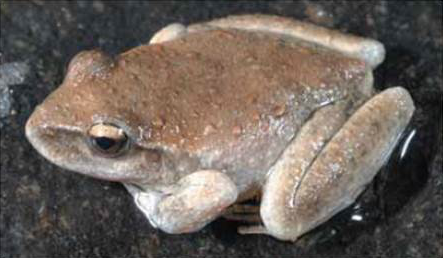 Image: Booroolong frog, Photo: DECC