Program overview
Through the Cultural Biodiversity Conservation pilot, eligible Aboriginal landholding organisations will be offered ongoing financial contributions to protect and manage important sites on their land for conservation.
If successful, these organisations will receive annual payments to implement an agreed conservation management plan and enter into an ongoing agreement with the NSW Biodiversity Conservation Trust.
Offer timeline
29 September 2023 – Expressions of interest open
1 March 2024 – Expressions of interest close
April-May 2024 – EOI assessment period including site visits if relevant
February 2025 - Applications open
March 2025 – Applications close
From June 2025 – Successful organisations notified
Eligibility
This Pilot focuses on enhancing the protection and management of biodiversity and cultural values, and least protected ecosystems within priority investment areas in the Pilot boundary. In addition to these core goals, the Pilot will also work towards connecting fragmented landscapes, building resilience to climate change, and supporting active restoration and healing of Country. This will be achieved through actively supporting Aboriginal communities cultural and spiritual obligation to care for Country alongside the delivery of agreed conservation and cultural land management activities on their land.
To enter this pilot offer you must be:
a NSW Aboriginal-owned landholding organisation such as:

NSW Aboriginal Corporations registered under the Corporations (Aboriginal and Torres Strait Islander) Act 2006
NSW Prescribed Body Corporates or Registered Native Title Bodies Corporates
NSW Local Aboriginal Land Councils

an Owner of the land, as defined by the Biodiversity Conservation Act 2016 (NSW); and,
an Australian citizen, registered for tax purposes in Australia and holding an Australian bank account, or an Australian registered company, registered for tax purposes in Australia, registered for GST and holding an Australian bank account; and,
a fit and proper person to enter into an in-perpetuity conservation agreement with the NSW Biodiversity Conservation Trust
Eligible sites include those:
located within the Cultural Biodiversity Conservation pilot offer area and comprises:

at least 20 hectares of native vegetation in moderate to good condition, OR
an important wetland (no minimum size however must meet additional criteria) including historic, culturally recognised wetlands
For full participant and site eligibility requirements, refer to the Landholder Guide.
The NSW Biodiversity Conservation Trust (BCT) will prioritise sites for assessment. These assessments are conducted on your property to determine if your native vegetation is eligible for a conservation agreement.
Map of eligible area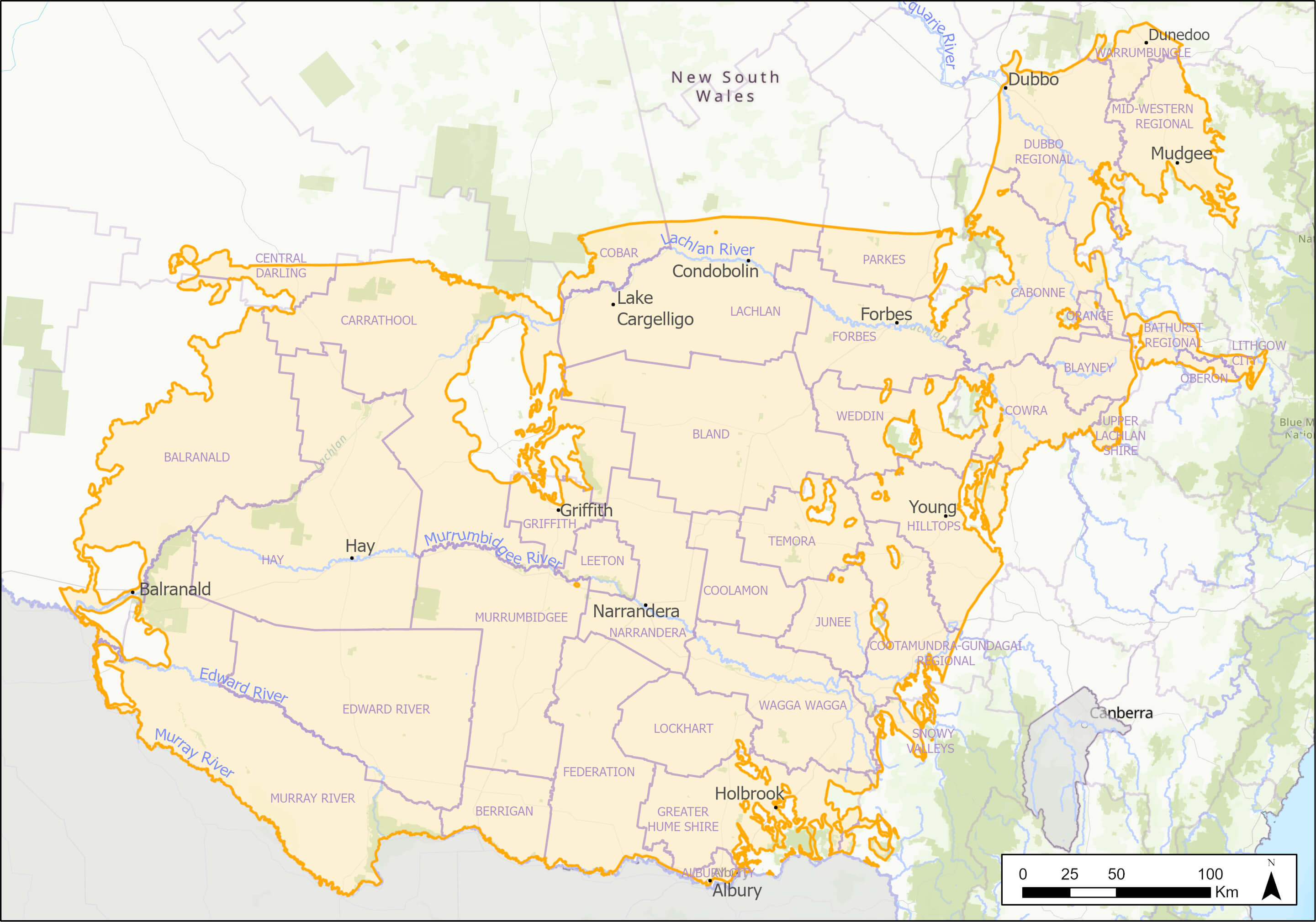 Use the following flow charts to determine LALC (Local Aboriginal Land Council) eligibility to participate in this program:
Submit your interest
Landholder guide
Inquiries
Privacy statement

This Privacy Statement sets out our privacy obligations to you and explains how we manage personal information we collect about you. Our appropriate and responsible management of your personal information is an essential part of the way we do business, and we understand the importance of protecting your personal information.