Biodiversity Conservation Education Strategy
Under the Biodiversity Conservation Act 2016, one of the BCT's four tasks is to promote 'public knowledge, appreciation and understanding of biodiversity and the importance of conserving biodiversity.'
To implement this responsibility, the BCT has developed a Biodiversity Conservation Education Strategy. The BCT Board has approved the BCT investing $2 million per annum to implement the strategy.
Audience-Focussed Objectives
There are many government and non-government agencies and organisations involved in environmental education. The BCT does not wish to duplicate the efforts of others. Because of this, the BCT is focussing its educative efforts on the BCT's core business, which is private land conservation. We are also taking an approach of designing and delivering educational projects in partnership with expert organisations.
If you are interested in becoming involved in the BCT's education program, please do not hesitate to contact us.
Projects
The BCT is now rolling out a range of projects to implement the strategy. We are sharing as much information as we can about biodiversity and the importance of conserving biodiversity on private land on our website.
Conservation Champions
One of our major projects, Conservation Champions, targets regional school students. It aims to promote the importance of biodiversity conservation in regional communities by educating the next generation of landholders. Students involved in Conservation Champions learn from our landholders, our staff, and educators through hands-on activities in the classroom and in the field. The project is being co-delivered by the BCT and Petaurus Education Group across NSW. We work with landholders and schools across a range of different landscapes.
Biodiversity on my Land
Another major project under development is the Biodiversity on my Land Museum in a Box, developed in partnership with the Australian Museum. These boxes, which will contain a wide variety of hands-on learning activities, will be available for hire by schools, community centres and libraries in 2020. The project will encourage students to explore the role of private landholders in protecting biodiversity. It will also highlight the importance of the many under-represented landscapes in NSW, the species found there, their role in the broader landscape's function and the stories of those landholders protecting them.
Landcare NSW Partnership
In a new partnership with Landcare NSW, the BCT is providing $1.34 million to fund a series of local projects and activities which will support conservation on private land.
Local Landcare groups across NSW will be able to apply for funding to raise awareness and increase participation in private land conservation. The partnership will also assist Landcare groups and local landholders to better understand the BCT and our programs.
More information about the project will be available on our website in June 2020.
Educational Resources
The BCT has a number of educational resources in the pipeline - see examples below. Feel free to contact us with any download issues or further guidance. We have produced books in collaboration from the various students as part of Conservation Champions.
Learning Activities
Image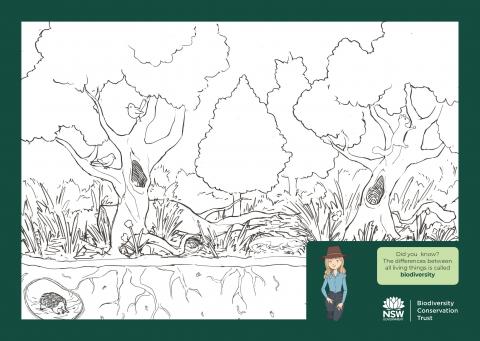 Learning Activity
2.54 MB
Colouring in Biodiversity
A fun colouring activity. Fun fact: Did you know? The differences between all living things is called biodiversity.
Image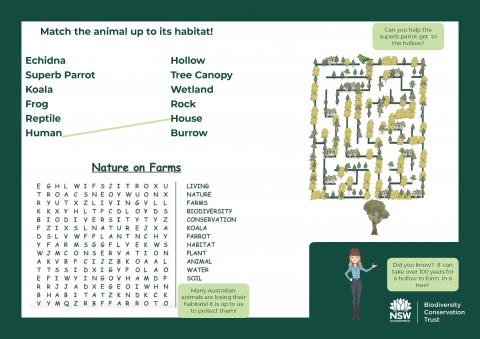 Learning Activity
828.44 KB
Biodiversity Learning Activities
Fun Fact: Did you know? It can take over 100 years for a hollow to form in a tree?