IMPORTANT UPDATE: Please note that as of 27 July 2022, management of the BSA application processes will be handed over to Credit Supply Taskforce (CST) at DPE. This means expression of interest, application, and variation processes for BSAs will no longer be managed by the BCT. Landholders at these stages of the BSA process should visit the BSA taskforce webpage for more information.  
The BCT is still supporting landholders following the establishment of a BSA. This includes conducting annual site visits and supporting the annual reporting process. In light of this change, the BCT will be updating some of the information on this page in the coming weeks.
This section includes key resources landholders at any stage of BSA application process. This includes landholders with BioBanking agreements entered before 25 August 2017. You can also read more on the Apply for an agreement to generate credits page. 
Any landholder considering entering a biodiversity stewardship agreement with the BCT to generate and sell biodiversity credits should conduct appropriate due diligence to satisfy themselves that there will be or is likely to be demand for the biodiversity credits that may be able to be generated. 
The BCT cannot provide advice as to whether a BSA is a financially viable option for a landholder. Landholders should consider seeking advice from suitably qualified advisers, such as accredited assessors. For information about accredited assessors, please visit the DPE Accredited Assessors register. 
For more information about the number, type and location of credits available for purchase, or credits which are required, please visit DPE's Credit Supply and Credit Demand registers.
For information about credits the BCT is seeking to purchase, please visit the BCT's Wanted Credits List. 
 
The Biodiversity stewardship agreement landholder guide provides a detailed list of information necessary in establishing a BSA. Follow this link to view the digital version of the guide or download a PDF version below. 
Image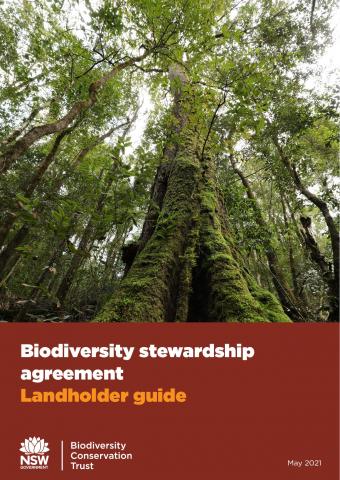 BSA Landholder Guide
Information for anyone interested in establishing a BSA. Includes an overview of the process and the key matters you should consider before, during and after establishing a BSA on your land. See above for a web-based version.
Image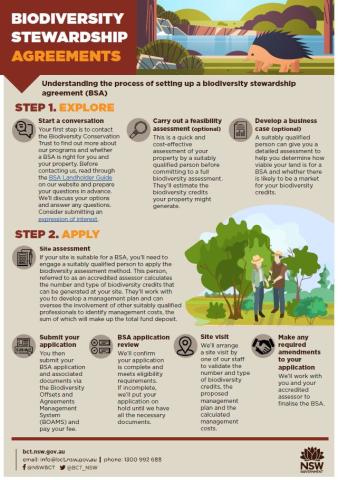 BSA process infographic
A visual guide that steps through the key stages involved in the BSA application process.
Image
Guide to submitting a BSA
This 10 page guide acts as an expansion of the above infographic, and provides more details about the steps involved in submitting a BSA. Can be used by landholders and accredited assessors alike.
Image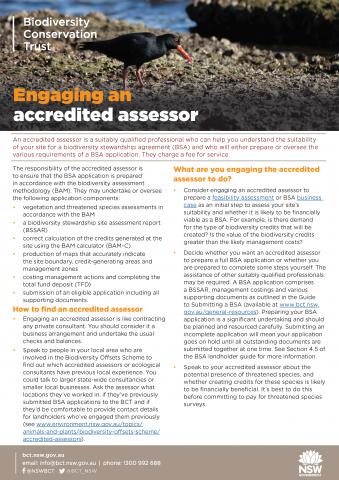 Engaging an accredited assessor
This 2 page document helps landholders in the process of engaging an accredited assessor to begin the BSA submission process.
Other relevant BSA resources include:
The BCT is leading consultation into the development of a new system to establish the charge for paying into the Biodiversity Conservation Fund. More information is available on this page.